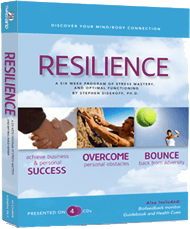 Here are the tools you need, but never learned in school, to live and work successfully and – most importantly – to be able to fully recover from stresses so you can give everything you have day in and day out.
Michael Sinel, M.D.
An amazing array of personal skills at your fingertips.
Hal Myers, Ph.D.
Resilience from Dr. Sideroff offers dynamic wisdom to empower us to prevail over those inevitable blips life throws at us.
Gerald Levin
Dr. Sideroff gives you the way to de-stress and continually renew your energy."
Rene Cailliet, M.D.