The Path: Mastering the Nine Pillars of Resilience and Success
Dr. Sideroff has developed a new and more comprehensive model of resilience that helps you achieve success while maintaining optimal health.
Dr. Sideroff applies over 40 years of research, training and clinical experience to address your most important yet baffling quality: resilience. Based on his innovative model, The Path guides you, step-by-step in learning an optimal way of living each moment – that he refers to as being "On The Path". His approach considers all the factors that contribute to your ability to navigate and master the challenges and stresses of today and live with the greatest level of health and success.
The Path goes beyond simply presenting important information. It helps the reader overcome resistance to change and supports the development of healthy new behaviors.
Based on the newest research findings, including his own groundbreaking research and theories, each chapter builds a process of breaking away from lifelong patterns to establish greater resilience.
Resilience has been successfully integrated into effective employee and clinical programs.  In one employee program utilizing Resilience, Dr. Sideroff achieved significant reductions in physical, emotional and behavioral symptoms as well as lower absentee rates and even a reduction in worker's compensation claims.  If you would like to discuss how you can benefit from the program outlined in THE PATH or the implementation of THE PATH for your organization, please contact Dr. Sideroff at Sideroff@UCLA.edu or 310-828-1113
The Path will help you:
Overcome old, ineffective ways of thinking and improve how you engage with the world –
Deal with painful emotions and unfinished business –
Be more present in your life –
Feel greater joy, happiness and success –
Improve along Dr. Sideroff 's nine dimensions of resilience and success
Ultimately Dr. Sideroff distills the process down to asking yourself one question:
"Am I on The Path, or off The Path"  And if you find yourself OFF The Path, he supports you finding your way back onto The Path.
Testimonials
"Brilliant life changing tool"
 "Sideroff makes resilience seems like an achievable goal, lending hope and positive reinforcement to what often can seem overwhelming."
"If you have been searching for an effective program that will help you actually achieve your goals, then you should take a serious look at The Path: Mastering the Nine Pillars of Resilience and Success by Stephen Sideroff. If you have been searching for an effective program that will help you actually achieve your goals, then you should take a serious look at The Path: Mastering the Nine Pillars of Resilience and Success by Stephen Sideroff."
"I highly recommend this book for anyone who is on a path of self-improvement and is not making satisfactory progress."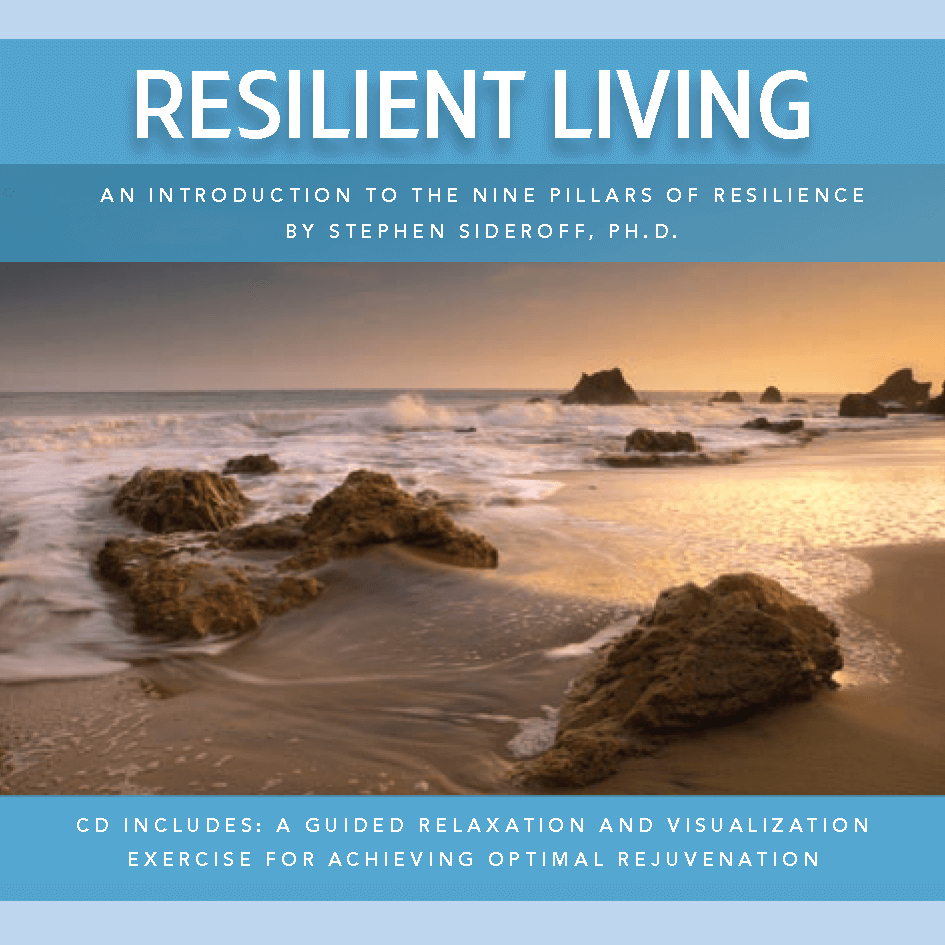 Resilient Living Audio Program
Resilient Living gives you a blueprint for achieving optimal physical, emotional and mental health.
Resilient Living presents an innovative and comprehensive model for effectively living with the inevitable stresses that come with a successful life.  This model not only helps you manage stress but also gives you a path to optimal performance.
In this informative audio program Dr. Sideroff explains why it's so difficult to control stress. After researching this area for over 25 years, and working with thousands of people, he has found a much more effective approach in his innovative "Nine pillars of resilience". As you listen to Dr. Sideroff you will be able to identify these areas, assess your own effectiveness and gain some direction in becoming more resilient. "Resilient Living" should be used by anyone engaged in a productive and successful life in order to maintain optimal performance and at the same time, stay healthy.
The audio program describes each of the nine pillars of Dr. Sideroff's resilience and success model.  It ends with a relaxation and visualization exercise with music composed and performed by Stephen Sideroff and Lon Price.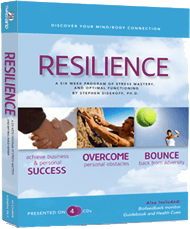 DOWNLOAD YOUR RESILIENCE PROGRAM TODAY
Program includes guidebook and over 260 minutes of audio, taking you through a six week program.
Resilience
NOW, YOU CAN LEARN TO BE MORE RESILIENT WITH THIS EASY-TO-FOLLOW, SIX-WEEK, STEP-BY-STEP PROGRAM
Maximize your body's healing and performance abilities with this self-guided program created by one of the world's leading experts in stress reduction. By listening to the 4 CDs included in the "Resilience" program for just five minutes a day, you'll learn effective strategies to help you:
Master stress
Relax through biofeedback
Develop positive thinking patterns
Improve self-esteem
Become more assertive
Learn better ways to deal with your emotions
Control catastrophic expectations
Solve problems and resolve conflicts
Overcome procrastination and better manage your time
Develop a positive attitude in life
Here are the tools you need, but never learned in school, to live and work successfully and – most importantly – to be able to fully recover from stresses so you can give everything you have day in and day out.
Michael Sinel, M.D.
An amazing array of personal skills at your fingertips.
Hal Myers, Ph.D.
Resilience from Dr. Sideroff offers dynamic wisdom to empower us to prevail over those inevitable blips life throws at us.
Gerald Levin
Dr. Sideroff gives you the way to de-stress and continually renew your energy."
Rene Cailliet, M.D.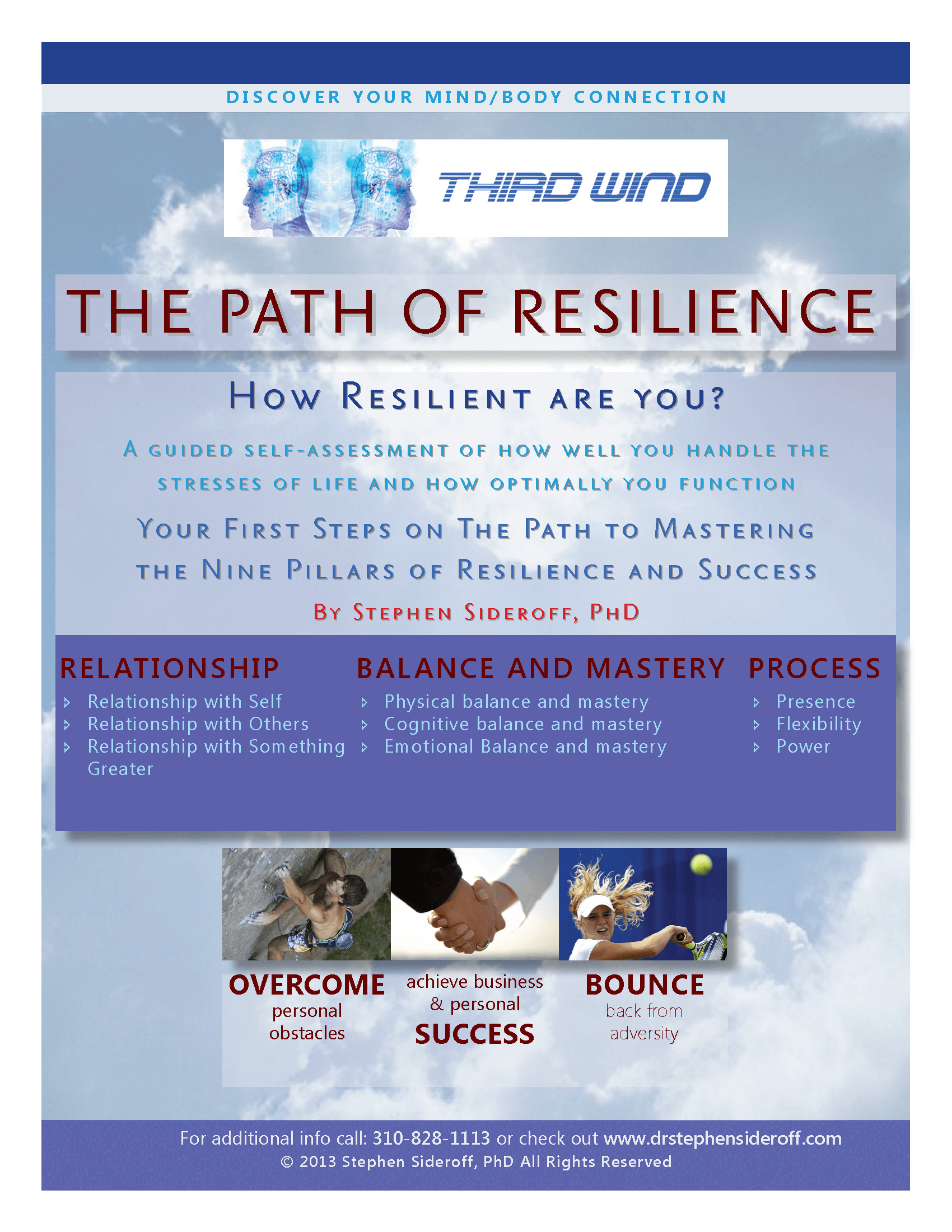 Resilience Assessment Booklet
Dr. Sideroff has created a comprehensive model for living in balance and health.  His assessment booklet identifies the nine components of his model and gives a brief and easily understood description of these nine elements of a foundation to resilience.  It then presents a 40 item questionnaire and self-scoring profile that allows you to gauge your areas of strength along with those areas needing greater development.